News / Headlines / Comeback / Teaser / Music Video
Sohyang Receives Standing Ovation after Performing "I Have Nothing"
By Staff Writer | July 08, 2012 12:01 PM EDT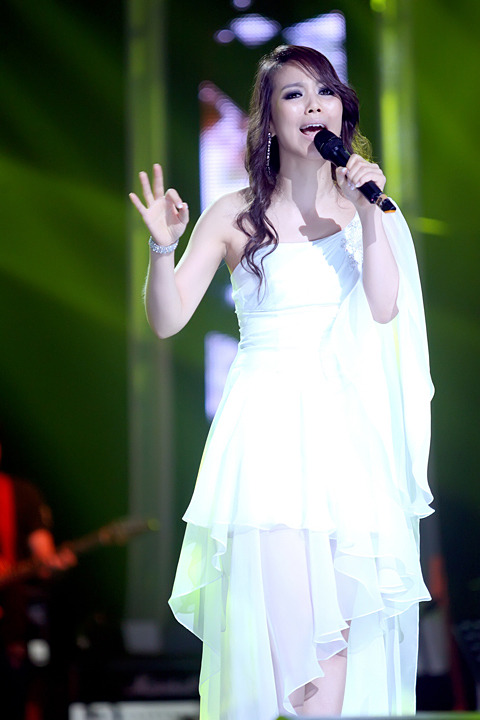 Sohyang all-killed during her appearance on MBC's "I Am a Singer."
On an episode of MBC "I Am a Singer 2" that was aired on July 8 featured a new artist on the show named Sohyang. The concept of the show on this day was "Foreign Pop Music" and Sohyang chose to sing the song "I Have Nothing" by Whitney Houston and completely blew away the audience.
As a special episode featuring all foreign pop-song performances, a significant number of non-Koreans were invited to participate in the judging process after listening to the performances. Even those who were more familiar with Whitney Houston's original version of the song were completely blown away by Sohyang's performance and gave her a standing ovation when the performance ended.
Even though it was her first performance on "I Am a Singer", Sohyang focused on her performance without hesitating or being nervous. Whenever Sohyang hit her high notes, every single person in the audience got goose bumps.
Usually, the people in the audience tear up or smile when they hear artists perform live on "I Am a Singer" but it was a completely different sight when Sohyang was on stage. People were truly shocked when they heard Sohayng's vocals that went up and down 4 octaves with an incredible ease.
After her impressive performance, Sohyang stated, "I'm disappointed that I wasn't able to control my emotions towards the second half of the song but I will learn little by little as I go and try my best."
Sohyang all-killed the contestants of the show and came in first place on this episode of "I Am a Singer." Sohyang exclaimed, "This is the first time receiving 1st place" and expressed her happiness.
Sohyang first appeared in the SBS "Star King" in March of 2010 and drew attention with her extraordinary performance of "I Believe I Can Fly" by R.Kelly. It has been reported that Sohyang has already been recognized world-wide for her God-given voice and is predicted to remain in the headlines for her talented singing in the future.
Photo Credit: MyDaily
Sohyang's Performance on "I Am a Singer"
Sohyang's Star King Performance in 2010
Featured
Concert / Event 12.08.16 | 05:05AM EST
In Lee Hi's recent V-Live, she told her fans that she will not be performing on year end shows but she is asking YG for a solo concert.
Concert / Event 12.08.16 | 04:49AM EST
YMC Entertainment has confirmed that one of IOI's last scheduled performance for this year will be at KBS.
Buzz 12.07.16 | 04:10PM EST
China intensifies ban on hallyu and cultural content from Korea. In the latest update, Beijing opened doors for more Japanese animation while EXO postponed their concert in China.